Farewell to Val
At the end of May 2021 Westway Trust Associate Director of Learning Services Val Patterson retired after 14 years at Westway.
The Newsletter Team interviewed Val and members of the team wrote tributes to celebrate her work and wish her farewell.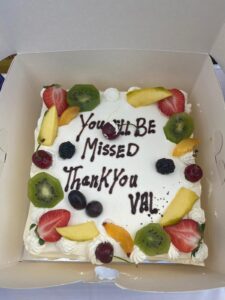 Newsletter Team Interview with Val Patterson on her retirement
"Did you know I was a carpenter?" says Val to the Newsletter Team with a grin. "I worked for the union, too, as a shop steward in a wood work factory. But the job I really loved best was teaching. I have spent most of my life involved with teaching in some way or another.
It wasn't a straightforward journey to work at Westway. I tried quite a few things first.
I grew up in Croydon, but I moved to Swindon. That is where my daughter Anna was born. I found the carpentry course tough as a woman. Not because I couldn't do it, but because people expected women to be different. I remember they said to me at the local Council when I went for a job, "Can you hang 10 doors in a day?" Well, I knew I couldn't do that straight away so I withdrew. In the end, I got a job at a door veneer factory, repairing doors – maybe they thought it was more suitable for a woman.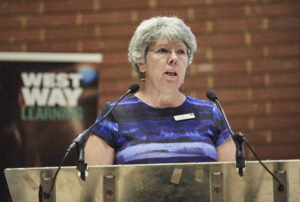 I then became a Governor at a local school and became interested in education, so I went and did teacher training – I'd already got an English degree. I worked in different secondary schools eventually becoming an Assistant Headteacher. In 2001 I moved to London. I was in Brixton where there were new schemes for bottom-up regeneration and it felt like a good place to be. I worked on a number of community learning programmes and got my first experience of working with Supplementary Schools, which are parent-led organisations created to enhance their children's education.
And then I moved to Westway as Head of Learning in 2007. It was an amazing place to be. There have been ups and downs at Westway– but there have always been lots of laughs and lots of conversations. We had a saying in those days: "Open yer gob, get a job." And that's how it was. There was always such a lot to do because society isn't equal and as long as that is true, there will be people under pressure. But it is worth it to feel part of the community in a useful way.
Grenfell was such a big thing for all of us because everyone knew someone who had died or who had been affected. It was good to come together and show respect for our learners in the community.
What did you like best? asked Reza.
I liked watching plans grow and develop and turn into something that made a difference. Best of all were the people I worked with both inside and outside of Westway. There are amazing people in the local community and it was an honour to work alongside them.
Do you have any plans for retirement? asked Cynthia
Val looked serious for a moment. Do you know that poem by Robert Frost, The Road Not Taken? It's basically saying that everyone's life is full of choices. There are lots of things you could have done. But whatever you choose will probably work out ok, even if there are moments when you have doubts. It really will.
She grinned again. And when I leave Westway, I will lose all those lockdown pounds and get fit, I will exercise and go swimming and I'll explore London, maybe from the top of a bus. And - who knows what will turn up? Certainly I'd like to do a course and learn something new. Maybe gardening. Maybe a new language or even an Arts and craft course.
"Good luck!" said Najat. "Good luck with everything you do!" added the rest of the team.
Letter to Val By Nawal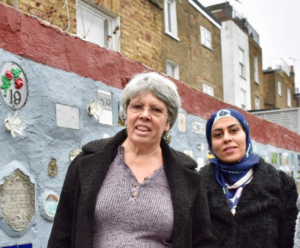 Dear Val,
It is hard for everyone in the  office, to say goodbye to a person who has become like one of the family. It was a privilege to know you and work with a mentor like you. 
When I met you for the first time in 2017, I thought you were a strict boss but I started to know you more when I worked in the office. I realised the responsibility that rests on your shoulders to guide your employees and support everyone seeking help, and I figured out what an inspirational and motivational adviser you are. I would like to express my gratitude to you for being a great and amazing support to me. Your attitude has a great impact for everyone and you will be missed. 
I really hope as you leave Westway, the journey ahead will bring you joy and happiness. 
Best of luck,
Nawal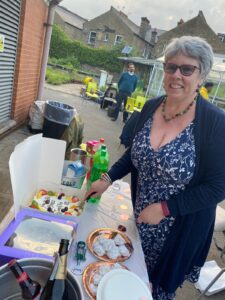 Goodbye Val! By Priscila
I believe that we can know a person by their actions and the legacy they leave, and observing your footprints at Westway, I am impressed by what you have done. All your hard work will surely be rewarded and your teachings will carve a space in everyone's heart. 
Even though I did not have the pleasure of knowing you too much, I do have things to say 'thanks' for. Thank you for your strength, for being a woman leading other women toward a better future, thank you for being unstoppable and thank you for being willing to adapt even in these difficult times. I know that wherever you are, you will be changing situations for the better.
Farewell Val. I wish you a lot of blessings.
Priscila