Just Solutions 123
In our commitment to put the community at the centre of everything we do, Westway Trust is proud to be working closely with local grass-roots voluntary organisation Just Solutions 123… 
The organisation's objectives centre around:
Eco-responsibility
Micro-metro farming and community harvesting, economic & environmental value to community green spaces
Ownership of community green spaces to address food poverty in North Kensington.
Improving well-being through eco-sensory interaction
Developing  green spaces into places of education and training
Social interactivity with economic value
Community cohesion with our borough-wide Community Kitchen Gardens United Network webpage to be developed by Westway Trust & RBKC
Improving physical health by utilising our North Kensington Green spaces for Grow Our Own Gardening groups; Outdoor Yoga and Tai-Chi lessons
Developing Roots Community Kitchen with a retail outlet
Providing opportunities for volunteering and training building pathways to further education and jobs
Empowering journeys from long-term illness or rehabilitation
Providing mentoring/peer support to face and make realistic life & career choices improving mental health and emotional well-being
#EndtheStigma
The organisation was established in 2014 as the brainchild of five women who either live or have close links to, the North Kensington community. Marcia Robinson remains at the core of this community-based project, dedicated to improving the local environment and the wellbeing of residents.
Projects
Health and well-being – talkshops, benches for talking, empowering and to provide peer support
Hope Garden – Just Solutions 123 has consulted with Grenfell survivors and community and have their approval to plant trees and develop small memorial gardens that will be tranquil places of remembrance and reflection around the location of the Grenfell Tower. Known as Hope Garden, the collaboration with Westway Trust transforms a

forgotten spaces into a micro farm, fruit orchards and herb gardens. Food that is grown is then cooked, developing sustainable enterprise while increasing biodiversity and local interest in bee population; and to educate using tried and tested methods of beautifying urban areas, giving pride back to forgotten spaces and communities. 

Geodome and Ecology Centre – Just Solutions 123 has recently received funding from RBKC to undertake a feasibility study into the establishment of a geodome or similar structure to be located under beside Hope Garden, under the Westway and adjacent to the 'Wall of Truth', an 
Trees 4 Grenfell – Trees and green spaces will serve to encourage and assist the process of healing. They will stand as symbolic representations of the love and community spirit witnessed on the night of the tragedy and observed throughout the area and much further afield, ever since.
Roots Community Kitchen –

Providing a space to sit and socialise while participating at all levels of the delivery of service from growing food to cooking . The kitchen project aims to p

rovide opportunities for volunteers and gain training in gardening to food hygiene and preparation, cooking, serving and selling the produce they have grown.
North Kensington houses one of the largest motorways in central London, the A40 Westway, which sweeps through the borough of Kensington and Chelsea. Planting trees and creating green spaces will increase the biodiversity of the area and improve air quality and remove toxins from soil. New trees will add colour and variety to the bleak urban landscape.
Annual Commemorations
Every year on 14 June, as the community marks the anniversary of the tragedy at Grenfell Tower, Just Solutions123 marks the sad occasion with community events.
First anniversary – tree planting in Hope Gardens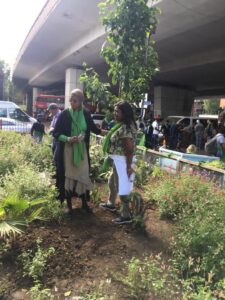 Second anniversary – 4 trees planted

Third anniversary – Candle Lighting in memory of the 72.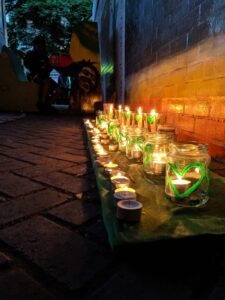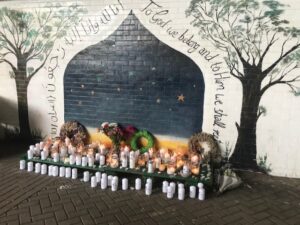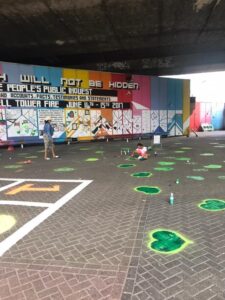 Marking the 4th anniversary – 14 June 2021
Just Solutions 123 and Trees4Grenfell will be working with partners in the community to mark the anniversary, including:
Grenfell United – we'll be placing green hearts around the Maxilla area, inviting the community to come and place the hearts (12-14 June)
@TiCLme – green ribbons on trees all over RBKC
Latymer Christian Church
Grenfell Foundation will be supporting the placement of a porta-cabin at Maxilla, to give people to opportunity to view the proposed plans for garden extension/ecology centre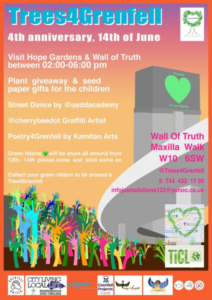 'Universi-tree' project
Planting at the University of East Anglia. We are calling on all universities to plant a tree for Grenfell.

Gardening Volunteers
Just Solutions 123 coordinates gardening volunteer sessions every week.
Meet by the Wall of Truth every Tuesday and Wednesday, 2-4pm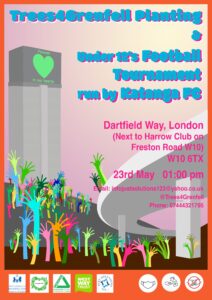 Westway Trust is committed to putting the community at the centre of everything we do. We're proud to partner with grass-roots voluntary organisaitons like Just Solutions 123… who are share our aim of enhancing the wellbeing of the North Kensington community.