Local skincare brand scoops bronze medal at European Skincare Award
Congratulations to Honey Corn Skincare, born in Notting Hill, who have won a Bronze Medal in the Face Oils/ Oil Serum category at the 11th annual 'Free From Skincare Awards' with their best-selling gender-neutral Elemi & Frankincense Anti-Ageing Serum. The Europe-wide awards were founded to encourage and reward manufacturers of skincare products that are 'free from' any of the allergens, preservatives, additives and fragrances associated with skin sensitivities, allergies and ethical and environment and health concerns.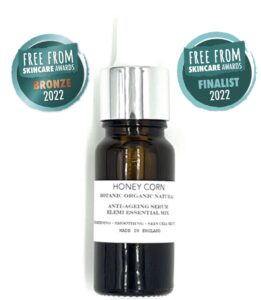 We recognise the importance of locally-owned small businesses to the North Kensington economy, when local businesses thrive, our community thrives. Late last year as the UK began to emerge from the pandemic, we wanted to do what we could to support our locally-owned small businesses to get back on their feet. In October 2021 we opened up our Covid-19 Relief Grant programme which was deisgned for local small business who make a real contribution to our local community, through this we awarded Honey Corn with a grant of £1,000 to support their growth into European markets. 
With sign-posting from the Portobello Business Centre to the Westway Trust's COVID-19 Relief Grant Fund I applied and was delighted to be awarded the grant at a time when my business really needed the help.  I found the grant really beneficial as I was able to work on developing secondary packing for my skincare brand Honey Corn in order to export to Central Eastern Europe. My goal has always been to export internationally and compete with the biggest brands in the world.  Resilience and this grant has kept my business afloat. Thank you Westway Trust!"
On winning the award, Ayesha Ibrahim, Founder of Honey Corn UK had this to say:
"I'm thrilled to have won an award on only my first attempt at entering a cosmetic award. The win for our Anti-Ageing Elemi & Frankincense Serum means a lot to me as it was formulated after several years of research using the knowledge acquired and documented by the Ancient Egyptian's in the Papyrus Ebers."
What's next for Honey Corn?
With plans to export their range to the Czech Republic in the short term, they aren't stopping there and have the rest of the world in their sight to export their full product range.
Honey Corn Skincare products are available via www.honeycornuk.com.