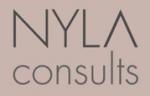 NYLA Consults specialises in business development and commercial innovation working with corporates, local government, charities, social enterprises, sports organisations, SMEs, and start-ups. 
We work across culture, heritage, sports, leisure, technology, regeneration and the creative industries.
We are a small, nimble but highly impactful company and adopt an immersive approach to understanding your business needs and responding to your challenges by drilling into the detail of your organisation.
Organisations in the same category: