Westway Community Street
Westway Trust has secured funding from the GLA Good Growth Fund to make significant improvements to the estate through a project called Community Street. The Community Street encompasses the whole Westway estate from Westway Community Transport on Acklam Road to Stable Way and will include improvements to lighting, additional greening, tackling poor air quality and improving a number of the Trust's buildings. 
Westway Community Street – Project Elements
Westway Community Street will deliver physical improvements and revitalisation to the Westway Trust estate, as well as improving economic opportunities for local people and businesses. This project is a recognition that local people find the spaces along the length of the flyover unsafe, isolating, polluted and difficult to navigate.
The Community Street will be a key wayfinding device providing local people and visitors with the confidence to explore the Westway Trust estate. It will provide more spaces for the community to access, with welcoming arrival spaces, improved public realm and public places to enjoy, particularly energising little used areas.
The Community Street will consist of:
A range of air quality improvement interventions including green infrastructure. We will also work in partnership with Universities to trial new and innovative solutions to poor air quality.
Illumination and animation across the mile long estate including:

Feature/artistic lighting
A specific focus on areas which feel unsafe and unloved to create distinctive and interesting light features
Installation of equipment to enable projections to create informal event spaces along the Community Street.

Better integration of Portobello Green Arcade, Portobello Green, Thorpe Close and the Market Canopy resulting in a better trading and visitor experience.
Refurbishment of public toilets on Acklam Road – to provide facilities for market traders, visitors and those attending events in Acklam Village
Refurbishment of Portobello Green Arcade
Refurbishment of Bramley's Big Adventure Building
New street furniture along the estate
Directional and interpretive signage to direct people to key locations and to pockets of activity along the estate.
Locally commissioned artwork on the walls and on the motorway pillars along the Westway estate which celebrate local heritage and culture
---
Community Street Artists
To create awareness for the Community Street project, we have a paid opportunity for community artists to design and build public art on three sites on the Westway estate. Meike Brunkhorsta (Freelance Community Street Art Coordinator) is accepting proposals until Friday 4 June 2021 for ideas that incorporate community notice boards and the newly developed Community Street branding.
The artistic elements and notice boards must generate interest and foster engagement with the Community Street project, work effectively to promote a range of messages in the form of posters and leaflets, and be safe, secure and durable in their public locations. Artists interested in submitting ideas should be familiar with the area and be available immediately.
Download the full brief and submit your proposal by emailing communitystreet@westway.org by Friday 4 June 2021.
---
Project Timeline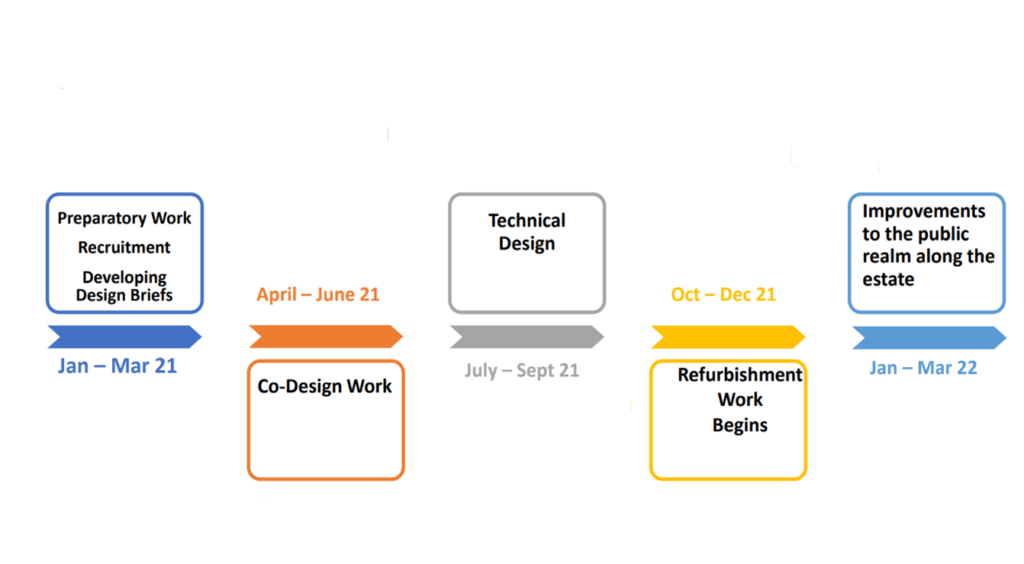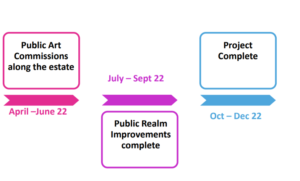 As part of our commitment to place the community at the centre of everything we do, we hosted a series of briefings in early March 2021 to update stakeholders on the current work of the Trust and specifically to discuss the Community Street Project and to hear and take on board your feedback. The notes of these briefings can be found here:
You can also watch a recording of one of the online events below.