Galaxy of Wishing Stars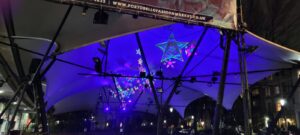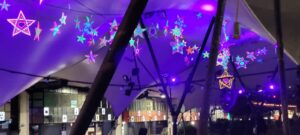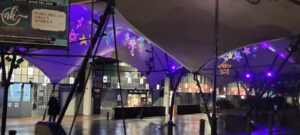 24hearts community arts created a Galaxy of Wishes underneath Portobello Canopy. A collection of handmade stars and written wishes from North Kensington's community.
The remote art project 'Wish up on a Star' provided free art packs to create and decorate a willow star, as well as easy to follow video tutorials so that stars could be made at home. Participants registered online to collect their art packs from a Pod on Thorpe Close. Packs included: willow sticks, wet strength tissue paper, fluorescent paper, neon yellow marker pen, masking tape, scissors and PVC glue.
UV lights illuminate the galaxy, adding light to what has been an uncertain time for us all. The stars not only bring a magical display of colour and hope to the area, but remind us that we can shine together as a community.
Click here to find out more about 24hearts projects.