Westway World Cup Village
Unity. Peace. One World.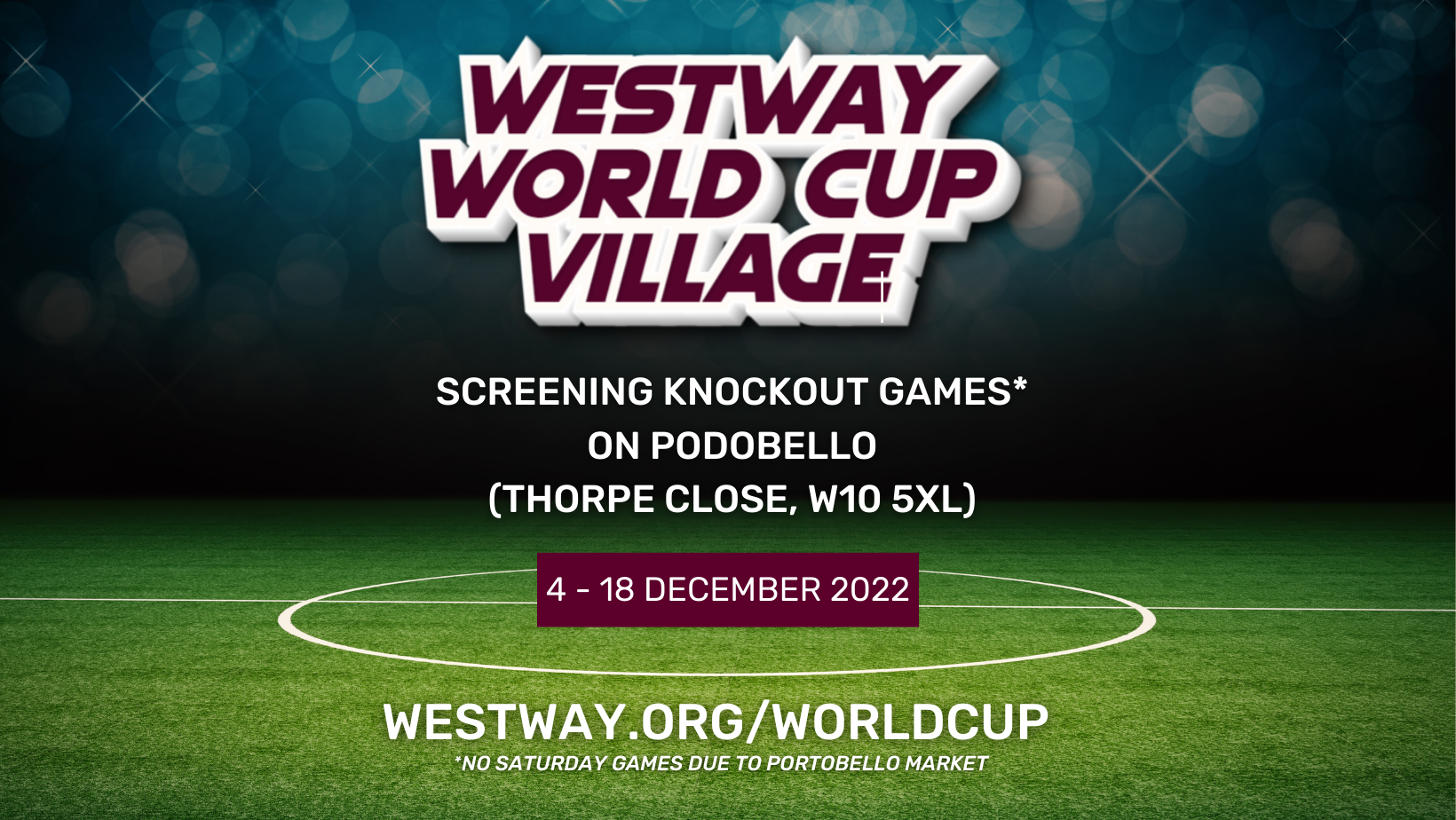 Football brings people together. And in December, Westway Trust is staging the 'Westway World Cup Village', screening games live on the big screen in the knock-out rounds from 3 December, all the way to the final on Sunday 18 December. 
The Westway World Cup Village is a free, family-friendly, alcohol-free space, fostering community connections supporting local enterprise.  
Locally-owned start-up small businesses occupying the pods on Thorpe Close will be open for the perfect Christmas gift, along with food, drinks, and loads of footy fun! 
Here are the games we'll be screening:
Sunday 4 Dec | 3pm - Winner group D v Runner-up group C
Sunday 4 Dec | 7pm - England v Senegal
Monday 5 Dec | 3pm - Winner Group B v Runner-up Group A
Monday 5 Dec | 7pm - Winner Group G v Runner-up Group H
Tuesday 6 Dec | 3pm - Winner Group F v Runner-up Group E
Tuesday 6 Dec  | 7pm - Winner Group H v Runner-up Group G
Friday 9 Dec | 3pm - Quarter Final One
Friday 9 Dec | 7pm - Quarter Final Two
Tuesday 13 Dec | 7pm - Semi Final One
Wednesday 14 Dec| 7pm - Semi Final Two
Sunday 18 Dec| 3pm - Final
Important statement from Westway Trust:
Sport has the remarkable ability to bring people together across cultural and social lines. In North Kensington, it can give us the opportunity to celebrate unity amongst our many diverse communities.
Westway Trust is hosting the screening of the World Cup finals to bring our diverse communities together in celebration of the things that unite us.
FIFA made the decision to award the hosting of this year's World Cup to a nation with a questionable record on human rights; which has rightly sparked conversation and debate across the world.
Qatar's well-documented record on the exploitation of migrant workers has rightly been criticised. Westway Trust joins in this condemnation. The World Cup, and football in general, has been tainted by the appalling lack of protection for migrant workers who have endured exploitative, even deadly, conditions as Qatar prepared for the tournament. Some estimates are of there being up to 6,000 deaths of migrant workers, many from Africa, South and South East Asia, related to the construction of new stadiums for the event. Amnesty International is calling for FIFA and Qatar to publicly commit to establishing a programme to provide remedy for all abuses related to the preparation and delivery of the World Cup and for the funding of programmes to prevent further abuses.
Westway Trust wants to see a world where people can be free to be the person they are, and to love the person they choose to love; without judgement, and most importantly, fear of persecution. Qatar, like many nations of the world, has a long way to go before visitors, and its own citizens can feel safe to express themselves as they choose.
Under Qatari laws, same-sex relationships are criminalised, and trans people are forced to undergo conversion therapy clinics sponsored by the government. Many LGBTQ+ people suffer imprisonment and violence simply for being themselves, and in some cases, could even face the death penalty.  Women are not allowed to marry without the permission of a man.
While we fundamentally disagree with FIFA's decision to award the hosting of the World Cup to Qatar, we must see this is an opportunity to shine a light on the exploitation and poor human rights record of the country. We join the global community in demanding better from Qatar.