Experimental Printmaking – Low Tech Hi Spec
Beginner, Intermediate, Advanced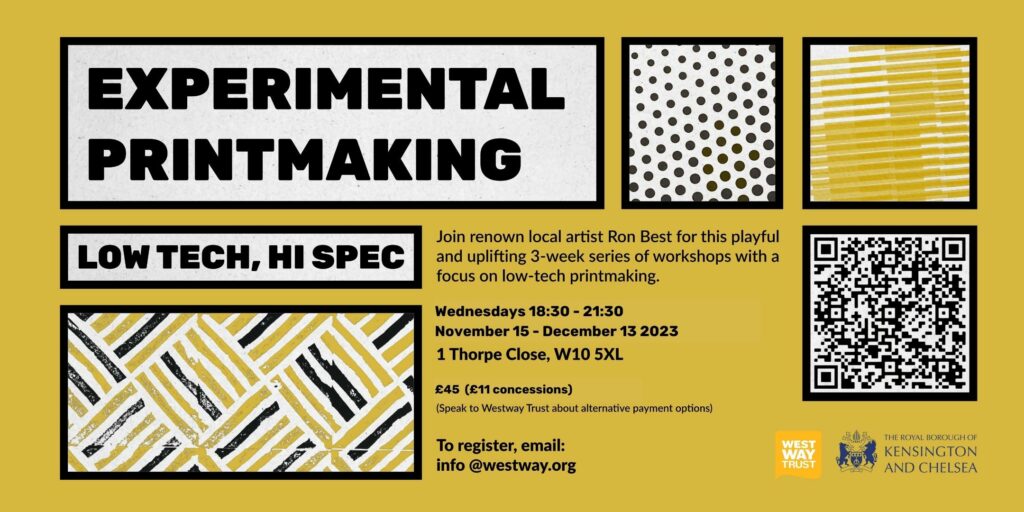 These playful and uplifting sessions will focus on low–tech printmaking. You will be introduced to several printmaking techniques and given the space to explore each one. We're all about play, exploration and trying new things. 
 Please bring your own materials (details below) 
Course content: 
What topics will you cover 
Simple plate making & dry point etching

 
Image transfer methods using recycled items

 
Relief printmaking i.e. Lino printing

 
Monoprinting

 
Simple image transfer methods i.e. drawing and printmaking

 
Explore collage and printmaking

 
Learning objectives 
By the end of the course you will have 
A series of prints using various techniques 

 
Used everyday objects to create prints 

 
Learn the value of printing and its possibilities

 
Enhanced drawing skills with printmaking

 
Using a printing press and other technical processes/equipment

 
How will I be taught? What kind of activities will I be doing? 
You will understand the various processes and techniques 

 
You will be asked to explore tone, texture, colour in the way of printmaking

 
Your tutor will provide whole group and individual support.

 
Your tutor will give group and individual feedback, and you will be encouraged to share your work and your views with the rest of the group

 
What will I need to bring? Where can I get this? What do we provide? 
sketch pad, pencils (2B, 3B, 6B) 
You can get these from any local art suppliers. 
Found objects or things that could be used to print an image i.e. leaves, fabric, newspapers magazines 
Apron or cover up – printmaking can be a messy process. 
We will provide tables, printing press, inks, rollers, gloves and some paper 
Will I get feedback? What could I do next? 
Students will develop printmaking technique that they may be able to develop outside of the class for exhibiting their own work or for further study 
Please talk to us about payment options