Festival of African and Caribbean Entrepreneurship

We are excited to announce an inspiring initiative to support people in the local community develop their entrepreneurial skills. This initiative will support entrepreneurs to feel prepared to make the next step with their business, being that employing people, finding finance, going digital or fine-tuning marketing strategies.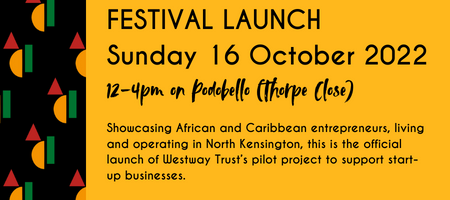 Our initiative includes:  
Subsidised market stalls on Podobello, for at least 4 months

 (100% reduction on rental). A colourful gazebo with market stall, opposite the pods, will be available on Fridays and Sundays.

 

Subsidised pods on Podobello, for at least 6 months

 (approximately a 75% reduction on rental). A vibrant array of pod units located between Ladbroke Grove and Portobello Road. these are retail units which will be open Fridays, Saturday and Sundays, with the aim of being a retail destination.

 

Creative Hub of micro units, for at least 6 months.

 These purpose-built, first floor micro units are situated in a key location on Portobello Road. The multi-purpose units are earmarked as a creative space where an office, micro workshop or small meeting space is needed.

 

Business-development course.

  This course will offer training and support, once a week, for up to 4 months. The units taught will include: branding and marketing, customer service, finances, writing a business plan, technology and risk assessing.

 
Our initiative is for: 
Residents of North Kensington;

 

Start-up businesses, generally established in the past 3 yea

rs.

 
We are aiming in particular to support underrepresented groups in business. Research shows that Black, Asian and other Minority Ethnic groups, women and disabled entrepreneurs face additional barriers when starting a new business or operating an existing one. This pilot focuses on breaking the barriers encountered by start-up black businesses, and as part of our response to Tutu Foundation's report into institutional racism at the Westway Trust. 
Application process
We are pleased to say there was a high level of interest in these spaces and are currently processing applications.  All current applicants will be contacted in September 2022, with the outcome of their application. 
As this trial process has received a very positive response, we intend to re-open applications for a second round towards the end of this year.  If you would like to be informed when applications re-open, please complete the form on this page.